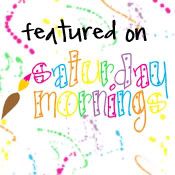 Saturday Mornings are great, aren't they? Especially when you wake up to good news and a nice bit of inspiration.  This Saturday morning was extra special as I received a nice mention from Dana over at Saturday Mornings Blogspot. 

After contacting me last week to talk about my blog, Dana took the time to  get to know me a bit. And then took the time to introduce me to her readers.

Dana's site features great crafts, awesome how-to projects, and cool giveaways.  She also offers tons of links to other creative folks (If you're crafty, you've got to visit Mod Podge Rocks.  You will not believe what that stuff is capable of).

Thanks for the mention, Dana.

Altered Today: Connecting with other bloggers.